A new vision for the future

At the very beginning of the UltraChip's establishment, we've set up an ambitious and clear strategic road map to maneuver to stand out in the business so as to be entitled the world's number one ultra performance IC design company. And, we are paving the way for a promising prospective with the ever growing competitiveness exemplified in our fully elaborated team of management, R&D, operations, sales, as well as the superb coordination based upon fully synchronized and standardized operation procedures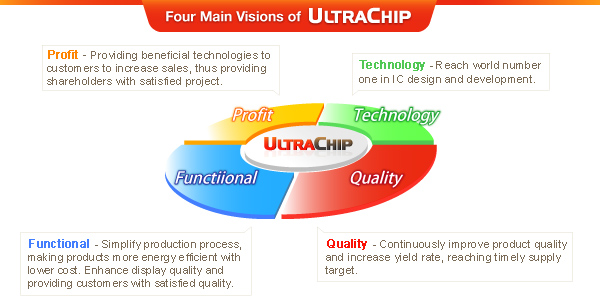 Our Corporate Value is to Enrich People's Life

UltraChip successfully enters the global arena with its highly competitive products/services. UltraChip is focused and specialized in R&D as well as sales of smaller sized LCD display driver IC. With our clear position and vigorous strategy in place, UltraChip has been successfully manufactured products whose quality is in parallel with those of international big brands. UltraChip's quick success in the global market has impressed our customers, shareholders and employees.
Not only does UltraChip maneuver for a profitable and sustainable growth, but we also make progress in order to enrich human beings lives and fulfill corporate commitment to the community as well.