Excessive Competitiveness Supported by a Strong Team

Thanks to the complete and professional vertical supply chains in Taiwan, UltraChip is able to flexibly coordinate with much more resources already in place, which entitles UltraChip to stand out in terms of flexible delivery, top-notch customer services, and cost-effectiveness. With both the effective management in supply-chain and substantial logistic network in place, UltraChip enjoys an unbeatable and complete business capacity and management, which paves the way for a promising blueprint for future growth.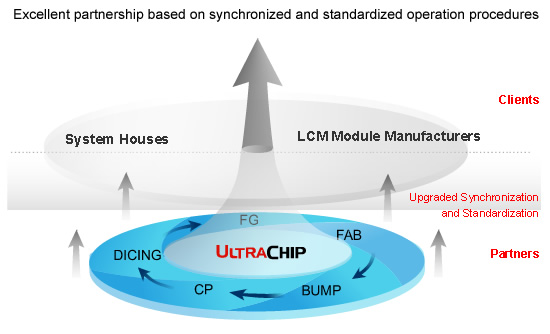 | | |
| --- | --- |
| Illustration: | With the cutting-edge synchronized and standardized production procedures in hand, UltraChip has been capable of successfully coordinating and cooperating with our subcontractor partners in various professional fields, including: wafer-in, wafer-bumping, testing and wafer-dicing, etc. UltraChip's reputed production managements and the above mentioned cooperative partnership have been certified and utilized by renowned global mobile phone companies and module manufacturers. |
Best Quality from Standardized Management of Subcontractors

UltraChip effectively scrutinizes each stage of the entire production process from wafer-in, wafer-bumping, testing, wafer-dicing through the end product. UltraChip strictly demands subcontractors at the equivalent stage to precisely meet the requirements of the synchronized and standardized quality, – which not only effectively guarantees the quality of our products, but it also secures each production chain/capacity to be flexible enough so that subcontractors can manage to easily support and complement one another. Besides, UltraChip strives to maintain long-term cooperative and extensive relationship with our subcontractors, who end up becoming UltraChip's supportive partners and integral to our strong production support.
-
Maintaining good cooperation is our top agenda.
UltraChip has been working closely and extensively with long-term subcontractors who always value UltraChip as their Class A customer and provide us with top production capacity, cost-effectiveness and delivery priority. This continually secures UltraChip's inexhaustible supplies and timely delivery to our end product customers.

-
Standardized and Synchronized Operation:
When quality issues are identified during the production process, UltraChip immediately demands overall improvements and solutions from all subcontractors of the same or equivalent product. This is to ensure that products from different subcontractors maintain a better quality control through our standardized and synchronized management.

-
Flexible Production management:
With UltraChip's standardized and synchronized suppliers (subcontractors) management in place, the production management/control becomes so flexible as to prevent unexpected shortage that may delay the end product delivery. Additional and immediate production capacity can be introduced from alternative subcontractors to complement one another , which then secures the timely delivery in the end.

-
Satisfied Customers:
UltraChip conducts a regular customer questionnaire to collect feedback regarding future trend, quality review, etc. Results are analyzed to help UltraChip and our subcontractors to improve or optimize products/services so as to meet and satisfy customers' needs. Also, the survey statistics are utilized for a better supplier management.
Perfect Logistic supports; Absolutely Achieving R&D goal
UltraChip strives to advance our R&D in daily operating management. Our R&D-oriented practices are exemplified in the production planning (PP) , the back-end engineering of quality assurance (QA) , the test engineering (TE) , and the product engineering (PE). With the help of the appropriate ERP system in place, not only does UltraChip effectively make customers contented in delivery, quality, schedule progress, and cost-effectiveness, but we also boost our customers' competitiveness in the market accordingly.