''Thinking big'' and ''Thinking different'' ; and Consumer-Focused Intuitive Design.
Pursuing outstanding quality has been UltraChip's pride and priority. Not only has UltraChip's outstanding performance exceeded customers' expectations, but it's also adored/recognized/certified by many international companies as a valued supplier/manufacturer. All the glories honored make UltraChip more advancing and promising. And, UltraChip will continue to promote quality services and products on top of such rewarded honors.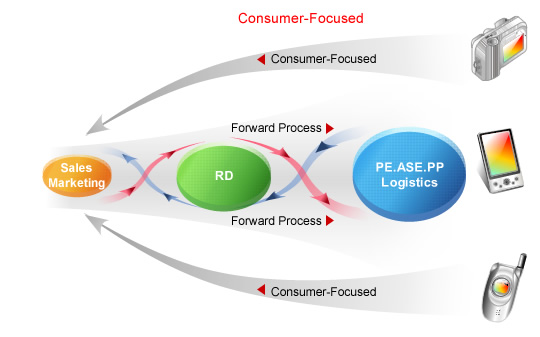 Illustration:
Consumer-Focused: We design products to fulfill consumer's visual demands and ensure that functions are more user-friendly and intuitive.
Forward Process: We rigorously and effectively conduct synchronized and standardized production management, and make every effort in boosting the overall quality management of subcontractors.
Not only does UltraChip's IC design products aim for meeting mobile phone/system companies' needs in terms of stable quality, flawless production and cost reduction. but we also strive to work on consumer-focused, demand-oriented new design incentives to seek new solutions and design to suit the end users' demands/anticipations accordingly.

UltraChip scrutinizes every detail of the production process, and always keeps adjusting and improving in regards to: product design, subcontractor management, production procedure, and end product delivery. Furthermore, we keep tracking consumers' preference, practical consumer-wise demands, etc. and also assisting system/module manufacturers to improve products. All the efforts are to ensure that we are always up-to-date and in the leading position in the LCD IC Driver industry.